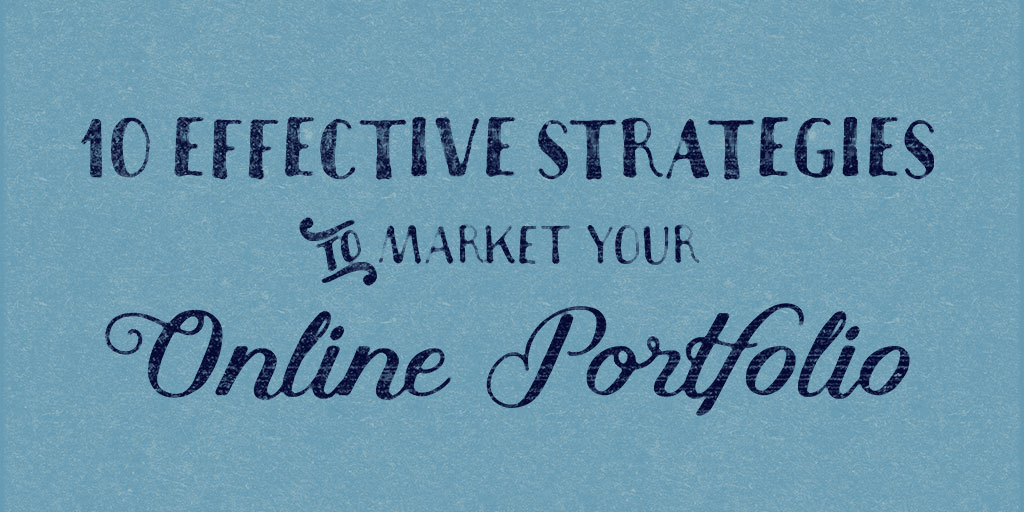 10 Effective Strategies to Market Your Online Portfolio
Designers rely on their online portfolio sites to showcase their work and win projects. For prospective clients, it's proof of your experience, skills, and creativity.
Unfortunately, sometimes creating your own online portfolio site can be harder than completing a typical design project. Without a guide to assist you, it can become a dilemma choosing the theme or layout, or worse choosing which pieces of your work to display. Since it's your own portfolio site, it's understandable to want nothing but the best. But sometimes this perfectionism causes a creative block that can prevent you from ever finishing your portfolio site. Instead, aim for a great online portfolio site to get you started with your prospective clients. You can always tweak it as you gain experience and client feedback.
So with that in mind, here's a list of actionable strategies you can use to create and market a great online portfolio site.
The Guide to a Showstopper Online Portfolio Site
1. Identify Your Target Clients
What type of clients or projects are you trying to win? What are these clients looking for? Use this information to guide you every step of the way. Every time you feel indecisive, ask yourself, ìWhat would my prospective clients want to see?î
2. Prioritize Clarity and Usability
It's tempting to show off your computer program design prowess, but now is not the time! Remember, you're going to use this portfolio site to win projects, not to test new computer portfolio site design and navigation methods. No one has the time (or patience) to find and navigate through links while checking out multiple tiny images of your work.
3. Put Your Best Foot Forward
There is no need to show off all of your prior projects, just choose your best work and put it front and center, right in the first few pages of your portfolio site, where the client will see it when they open your portfolio site. What if you're having a hard time choosing your best work? If that's the case, just choose work to display based on previous client feedback, the work's impact on your client's business or based on awards your work has won.
4. Explain Each Project
They say pictures are worth a thousand words, but that doesn't mean those pictures are sufficient to explain the reason behind the design, or the work you had to do behind-the-scenes before coming up with the concept. That doesn't mean each sample of your work needs a full-fledged essay, just a few words to give prospective clients a background understanding of your work. Include the name of the client who commissioned the project, what they wanted to accomplish and how your work helped them.
5. Show Social Proof and Credibility
You know how some websites have a collection of company or media logos at the bottom? You can use that, too. Except, instead of 'as seen on' or 'published in', you can just use 'Worked with' or 'Clients'. It doesn't matter if you've only worked with small or mid-sized companies, the point here is to reinforce that other businesses have trusted you and benefitted from your work.
6. Provide Client Testimonials
Media logos aren't enough, so include one or two testimonials from previous clients. Prospective clients don't know you, personally, so they'll need to be assured of your reliability and skills.
7. Minimize Visual Clutter
Now we come to the hard part, deleting unnecessary design elements from your portfolio site. After loading your work samples and proof of credibility, examine your portfolio site thoroughly. Are there any buttons, links or images that don't serve a direct purpose? Remove them. Portfolios sites with a lot of white space have a light, organized and professional feel. Also, the white space helps your work samples stand out.
8. Use the Right Technology
If there are tools or techniques specific to the project you are trying to win, use that technology to design your portfolio site. For instance, if you're a flash designer, having a flash-based portfolio site is just another way to show off your skills in handling the technology.
9. Educate Prospective Clients
Sometimes, prospective clients know they need something designed or created but they don't know how to articulate their needs. And even if they can, they're not aware of all the options available to meet their needs. As the designer, it's your job to educate them as to what is possible, by listing the different services you offer, and then linking your services to your potential client's needs. Aside from giving prospective clients different options, educating them also demonstrates your expertise in your field. Remember, designing, and the tools used for such projects, may be obvious to you, but most prospective clients know little to nothing about it ñ that is why they're looking for people like you.
10. Use Multiple Portfolios
If you have different skills you would like to highlight, you can promote them separately on different portfolio sites. This way, you won't confuse prospective clients, unnecessarily, with too many options.
In conclusion, make sure it's easy for prospective clients to contact you. It's easy to get caught up in the nitty-gritty of designing a portfolio site, but all that will be for naught if people can't find your contact information! Put it in a prominent place, preferably at the header of your portfolio site.