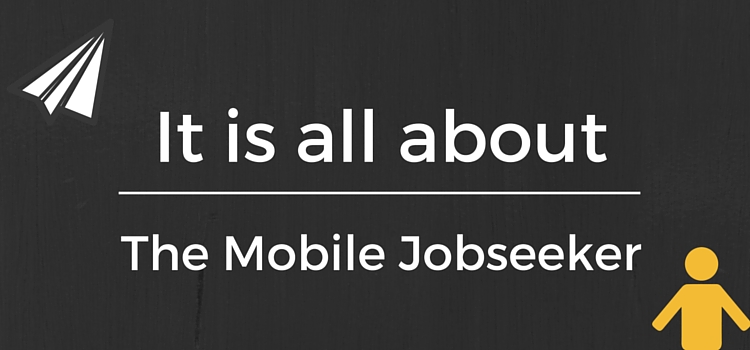 How Social & Mobile Recruitment can improve you hiring quality?
Social media and mobile device have been game-changer for recruitment campaigns and recruiters themselves. Recruitment is no longer about dealing with hard CVs and Cover letters but rather about dealing with candidates' social media profiles.
As it has always been, recruitment is about learning as much as possible about a candidate before and during the interview. Nowadays, both candidates and employers have a wide range of tools at their disposal for establishing the right match.
Social media have enlarged the recruitment possibilities
Social recruiting has become big business on social platforms not only via professional networks such as LinkedIn or Viadeo but also via Facebook and Twitter. The time is to social recruiting technology to appeal and catch talent to match positions.
Recruitment campaigns are wider spread which enable employers to generate a powerful branded image. Additionally, being present on social media helps gently attract the talent' curiosity allowing to enlarge the talent pipeline.
As a matter of facts, businesses can establish longer lasting relationship through social media.
Nowadays, the candidate profile is constituted of its application but also its social media accounts allowing recruiters to have insights on candidate's personality and passions. Social media could also be an asset when conducting background checks after receiving the application or doing the interview.
Mobile devices revolutionized the recruitment approach
Mobile device has a unique position to play in the recruitment. Consequently, recruiters should establish strong and powerful mobile recruitment methods to ensure not missing out interesting talent. Nowadays, 1 on 2 job seekers believe that it is complicated to apply for a job on a mobile device and 37% of them give up because of this (Glassdoor, 2014). There is still a long way to cross before reaching the recruiting mobile' eden.
According to Glassdoor (2014), they are 9 on 10 job seekers using their mobile device for job hunting. Increasingly, applicants are likely to be able to complete every aspects of the recruitment process via their smartphones. Applicants should now be able to search for a job but also to upload their information and arrange an interview from their mobile handset.
The goal behind mobile and social recruitment is centered on building strategy and connecting with people. Candidates can get an accurate feel for an organisation from the beginning. Mobile recruitment is all about attracting the best talent by establishing a direct and instant contact with the candidates. For this, recruiters should not limit themselves to job ads and social updates but base their strategy on a strong inbound recruiting campaign.
Targeting niche audience, being creative by using visuals or videos in few clicks is essential. As a key and fundamental aspect of the recruitment, having a well-branded career portal not only on the company website but also on diverse social media is a key asset. To reach the 100% of applicants' satisfaction, live video interviews should also be possible from smartphones anywhere in the world (Sonru, 2015).
Applicant Tracking System (ATS) helps you improve your hiring quality  in few clicks
Applicant Tracking Systems incorporating metadata analysis are reaching employers' heart. An ATS could help recruiters creating, publishing, promoting and establishing a well-focus recruitment strategy. The main advantage of ATS is to do every recruiting actions from one place in few clicks. This allowing recruiters to be proactive and responsive toward interested talent. Then, recruiters can share roles and communicate about an applicant via logs or a rating system.
On top of that, the ATS is able to track the applicant's social media profiles, their posts and any recommendations they receive from their LinkedIn profile, for instance. Moreover, when HR managers are interested in a specific profile they also  can import profile's data in the system.
Tips and tricks
Eligible candidates must be able to self-schedule their own interviews according to their hiring manager available times. Additionally, to increase the flexibility of the company, employee must be able to access an internal recruiting application. Consequently, employee could apply for a job but also spread the job ad through their social circle.
To be faster than competitors, the key point is to prioritize the recruiting for jobs and candidates that require speed. Then, sharing information about a candidate in real-time and widely distribute a recruiting role is fundamental to be proactive. Concerning talent's acquisition, recruiters have to identify the unnecessary delays into the hiring process.
To sum up
The HR field switch to a fast-past environment where the competition is high.This is why, being responsive through mobile apps or social media is no longer an option. ATS could be a great help in the war for Talent. It allows recruiters to control and analyse every actions made into the recruitment process.
Whilst mobile recruitment and social media are two of the big trends it is also true that ATS technology will fast become a firm favourite. As 2016 marche forward, more and more top recruiters will also be looking at exploiting the use of semantic search to track down the best talent.
References
Barcevičiūtė, R. (2015). Has Social Media Recruitment Tools Improved Candidate Quality?{Candarine}. Retrieved from http://www.candarine.com/blog/has-social-media-recruitment-tools-improved-candidate-quality/
Finnigan, D. (2015, 16 June). Ensuring your recruitment strategy moves with mobile. {hrmagazine}. Retrived from http://www.hrmagazine.co.uk/article-details/ensuring-your-recruitment-strategy-moves-with-mobile
Glassdoor. (2014, 13 March). 9 in 10 Job Seekers to Search for Jobs via Mobile; Glassdoor State of Mobile Job Search Survey. {Glassdoor}. Retrieved from
https://www.glassdoor.com/blog/9-10-job-seekers-search-jobs-mobile-glassdoor-state-mobile-job-search-survey/
Glassdoor. (2014, 12 May). Employees Share Insights on Mobile Job Search. {Youtube}. Retrieved from https://www.youtube.com/watch?v=9d7yvj8S_dQ
Sonru. (2015, 09 March). Here's why 2015 is the year for social media and mobile recruitment. {Sonru}. Retrieved from http://www.sonru.com/blog/article/heres-why-2015-is-the-year-for-social-media-and-mobile-recruitment#sthash.MiICryDQ.dpuf
Sundberg, J. (2015). How Many Jobseekers Use Mobile Devices for their Job Search?{the undercoverrecruiter}. Retrieved from http://theundercoverrecruiter.com/infographic-how-jobseekers-smartphones-use-them-search-jobs/
Sullivan, J. (2015, 23 November). Recruiting Trends For 2016 And Their Supporting Best Practices, Part 2 Of 2. {Eremedia}. Retrieved from http://www.eremedia.com/ere/recruiting-trends-for-2016-and-their-supporting-best-practices-part-2-of-2/
Sullivan, J. (2015, 23 November). Recruiting Trends For 2016 And Their Supporting Best Practices, Part 1 Of 2. {Eremedia}. Retrieved from http://www.eremedia.com/ere/recruiting-trends-for-2016-and-their-supporting-best-practices-part-1-of-2/
Work4. (2013, 10 December). Use Facebook to Build a Consistent Talent Acquisition Strategy. {Youtube}. Retrieved from https://www.youtube.com/watch?v=IrJhz2gYD20
Work4. (2013, 23 September). Social Recruiting: Answer the Call of Mobile Recruiting. {Youtube}. Retrieved from https://www.youtube.com/watch?v=mUF643qZMcs