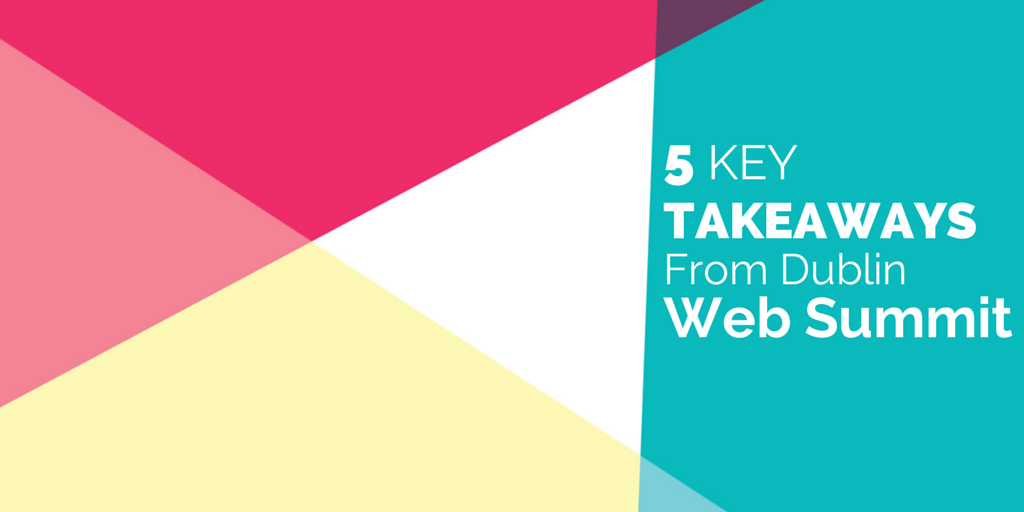 5 Key Takeaways from the Dublin Web Summit
Talentsquare had the opportunity to attend the Web Summit 2014 in Ireland, Europe's largest tech event with 20,000+ attendees. This massive event brings not only attendees but also thousands of startups and several hundreds of journalists and investors.
For many, the experience was overwhelming due to the large amount of people and reduced time to have quality conversations. Nevertheless Talentsquare got the chance to be present in the Belfast Summit and exhibit for a day as a BETA startup. To give some more information on this ranking, startups during the Web Summit were attributed one of three different categories: Alpha (early stage), Beta (growth phase), or Start (traction secured, highest potential).
Talentsquare was represented by Pieterjan (@Pjkempynck), Timoté (@TimoteGeimer) and Hugo (@hugosbpereira). Three people, comprising 0.01% of the attendees at the Summit. That meant the actions and presence at the event had to be well-thought. So, in between the Belfast Summit, Web Summit and plenty of conversations inside and outside the event, we compiled some insights on what the Web Summit taught us about startups, trends, recruiting and overall event management.
1. Hiring is under-rated in startups
We visited over 400 stands during the Web Summit and tried to understand the business behind the startups, what is their vision, journey and thoughts on their own market. As a Talentsquare team we value conversations over interactions, meaning we were not hunting for business cards around the venue, but rather looking at potential interesting businesses and learn from their journey as well.
It was rather shocking that (ball park figure) about 90% of the companies we've met do not have any recruiting software to help them hire better. Most startups did not have a database of applicants that can be crucial when looking for talent in the future.
Most of them justified their non-hiring focus in the fact that they were still beginning and only hiring few people per year. This was a key insight for us, and gave us more energy to continue our work at Talentsquare, where we believe talent must be free and that companies should have systems behind to help them hiring occasionally or doing mass recruitment.
A lot of investors say that they look at the team and that influences their decision to invest in a business. So, if having a team is what makes a difference, why hiring is still undermined?
2. User-growth is the new currency
The Web Summit clearly demonstrated us that we are shifting paradigms on the way we build companies and brands. Startups in the ALPHA programme were clearly looking to showcase traction and user growth, and not worried (yet) with their business model.
Startups in the BETA programme were in the growth phase and starting to struggle with different financial challenges, from cash-flow, lack of resources, or weak customer conversion rate.
Finally, startups in the START programme were more solid, and mostly mentioned that they got advice on pursuing a sustainable revenue model at the same they increase their use base.
The importance of finding a business model is still there, but diluted when compared to the importance of finding user that want your product. The future will tell if this is the right approach or not, but was definitely clear that showcasing user growth is a key metric to attract investors and media.
3. European entrepreneurial spirit does exist
If there was an event where the Talentsquare team did felt that there's hope for Europe it was the Web Summit. Sure, there were a LOT of startups based in the US and Europe is still lacking behind in terms of funding available to help companies rise and grow.
There's also a risk aversion that was noticed during the event when talking to European investors, but overall the Web Summit brought together entrepreneurs that are ready to challenge the status quo and bring an era of successful European startups to life.
4. Data matters now more than ever
Big data is a bug buzzword nowadays. Yves Loiseau from Textkernel, had already talked about the importance of this topic in an interview with us, and the Web Summit just re-emphasised it.
Decision makers are more and more into reading data as a way to make better decisions. Perry Valkenburg from TBWA said that "Data fuels creativity" and Chris Clark from DigitasLbi said that "Data, really, is just people in disguise".
They both highlighted the importance of it in every software that is being built. Data can be a key differentiator when a customer has to decide which software to purchase. For Talentsquare knowing that data can be a trigger for customers to purchase a software was rewarding, due to our big investment in having real-time analytics to help recruiters make better hiring decisions.
5. Mobile is the new king in town
No news here. We all know how mobile usage, apps purchase and downloads increase every day, and more and more startups are being built around the mobile industry.
Most of the startups present at the Web Summit were talking about mobile. Mobile experience, mobile apps, mobile interface, mobile compatible. Mobile was everywhere.
As a team that is working hard on release a recruiting mobile application, we understand that being part of the lifestyle of a user can only happen if companies embrace the mobile era.
---
We do hope you had as great takeaways as Talentsquare did during the event. As a closure we leave you with 10 interesting facts from this year's Web Summit, according to the Irish Independent, Feeligo and Tech.eu:
The event officially had 22,000 attendees from 109 countries, 614 speakers, 700 investors, 1,324 journalists and 2,160 start-ups exhibiting.

The average age of the Web Summit team this year was

 

27 years of age. The team was made up of 110 people.

Just

 

15%

 

of the speakers were women.

This year's Web Summit claims to have set up

 

10,000 face-to-face meetings

 

between start-ups and investors.

Thursday morning saw Nespresso serve their

 

100,000th cup of coffee. This is almost five cups per person.

The youngest developer at the Web Summit was

 

8-year-old Ciara Whelan 

at the Coder Dojo event.

The youngest developer in Europe was also at the event –

 

Niall Keogh is 11 years of age and already has two apps completed, including one on the App Store.

There were 432,000 tastings of Irish beef, lamb, pork, duck, chicken, fish, seafood, fruit and vegetables.

There were 10,000 tubs of Ice Cream and sorbets handed out.

Over 160 judges have been assigned to judging panels over the course of the

PITCH

competition.
---
To everyone we have had the pleasure to talk to during the Web Summit, we'd like to say: